In Business for the Community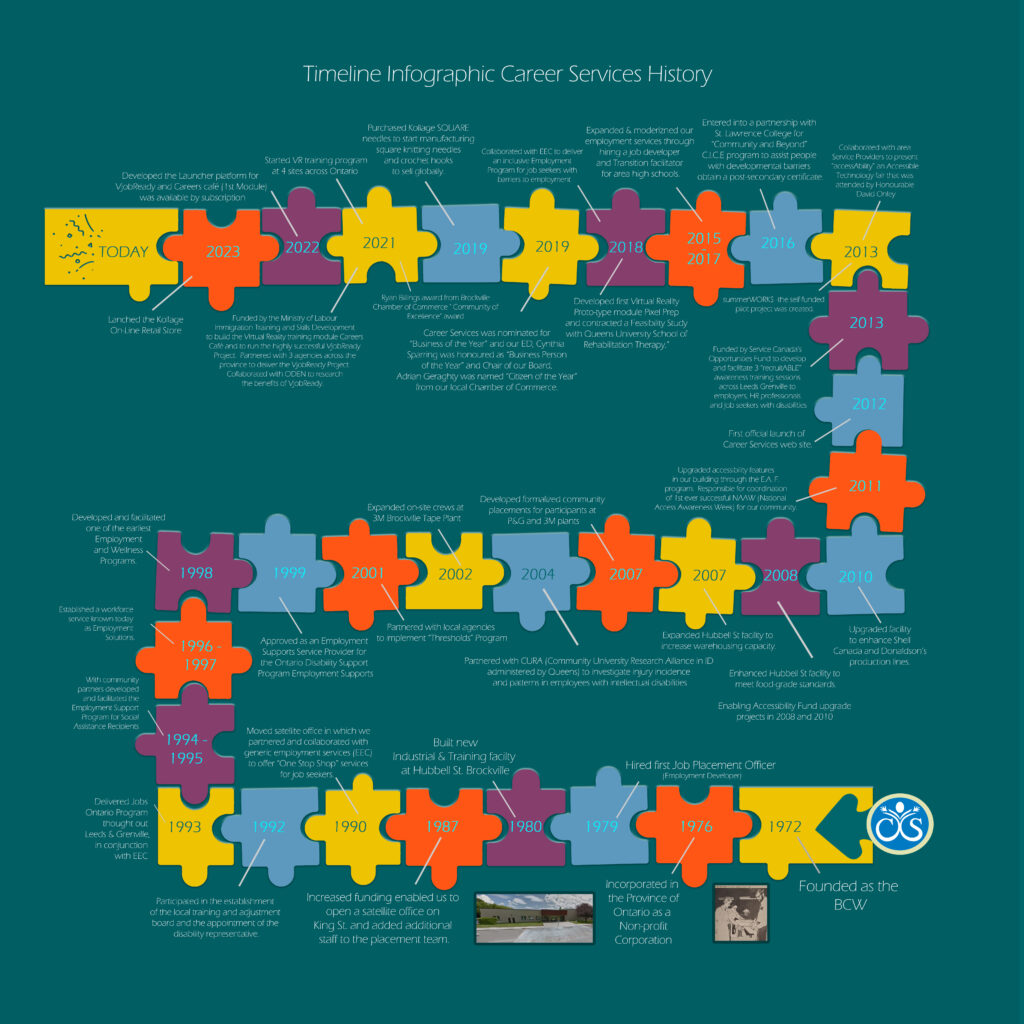 | | |
| --- | --- |
| 1972 | Founded as the BCW. |
| 1976 | Incorporated in the province of Ontario as a non-profit corporation. |
| 1979 | Hired first placement staff to develop and support community placement and employment. |
| 1980-81 | Built new industrial/training facility @ Hubbell St., Brockville. |
| 1987 | Opened a satellite community based office to serve a wider population (King St., Brockville). |
| 1990 | Joined community partners at a "generic" office called the Employment and Education Centre @ Arvic Plaza, Brockville. |
| 1992 | With community partners, delivered the Leeds & Grenville Jobs Ontario program. |
| 1993 | Participated in the establishment of the local training and adjustment board and the appointment of the disability representative. |
| 1994 & 1995 | With community partners developed and facilitated the Employment Support Program for Social Assistance Recipients. |
| 1995 | Employment and Education Centre moved to Strowger Blvd. |
| 1996 | Established a cardboard recycling business. |
| 1997 | Established and operated a temporary labour agency called Team Temp. |
| 1998 | Developed and facilitated the Employment and Wellness Program. |
| 1998 | Began administering the local budget and program for Opportunities Fund for Human Resources and Social Development Canada. |
| 1999 | Approved as an Employment Supports Service Provider for the Ontario Disability Support Program Employment Supports |
| 2001 | Partnered with local agencies to implement "Thresholds" Program. |
| 2002 | Expansion of on-site crews @ 3M Brockville Tape Plant. |
| 2007 | Development of assessment programs for clients @ P&G and 3M Plants. |
| 2007 | Expansion to Hubbell St. facility to increase capacity with Cover-All addition. |
| 2008 | Enhancement to Hubbell St. Facility to handle food-grade product. |
| 2010 | Upgrades to our facility to operate production lines for Shell Canada and Donaldson's. |
| 2011 | Successful application for various accessible upgrades to our facility and services under the Enabling Accessibility Fund.  Acquired semi-automated equipment line for case and carton packaging |
| 2011 | Career Services organized a very successful National Access Awareness Week in celebration of the 25th anniversary of the Rick Hansen Wheels in Motion tour.  |
| 2012 | Launch of our new website. |
| 2013 | The Summerwork$ Pilot Project was created and funded by Career Services |
| 2015-2017 | On-going modernization of services by hiring a Job Developer and Youth Transitions Facilitator as part of an Employment Service Modernization Project |
2019 Aquired the Kollage SQUARE needles Business, our very first owned in-house production project
2018 Launched first VR project study with Queens
2021 Received funding for full VR program from Ministy of labour immagation training and skills devepoment.
2022 Started VR training program at 4 sites across Ontario
Industrial Services
Career Services is one of the largest co-packers in South Eastern Ontario.  We are an inclusive employer with fully trained employes ready to meet your packaging, assembly, re-work, pallet, recycling and staffing needs.  Please visit the Industry Solutions page for more information and the opportunity to request a quote.
Eligibility: To be eligible to apply for Vocational & Employment Supports with Career Services you must be a person who has a disability* that creates a barrier in finding or keeping a job AND:
an adult (18+)
a student looking for a summer work experience (16+)
able to provide (or make arrangements for) transportation to and from Career Services' locations and work sites
prepared to follow a work schedule on a regular basis. You may work part-time or full-time, but dependability is a basic work expectation
independent in your basic needs. Career Services does not provide personal support in the areas of eating, dressing, hygiene, or medication. 
motivated to work and ready to accept instruction, direction, correction and advice
*MCCSS partially funds Career Services to provide vocational and employment services to job seekers with developmental/intellectual disabilities.